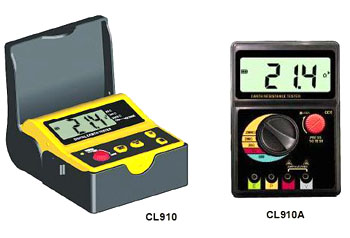 ﹛﹛Digital Ground Resistance Meter CL-910 /CL-910A



﹛﹛This product is an earth resistance tester for testing power distribution lines, in-house wiring system, electrical appliance etc. It also has an earth voltage range for earth voltage measurement.
﹛﹛1. Designed to IEC61557 safety standards.
﹛﹛2. Drip and dust proof construction in conformity with IEC 60529(IP54 for case, IP40 for battery door) standard, measurement can be made even under adverse weather condition.
﹛﹛3. The large LCD is easy-to-read, and also with LCD backlight.
﹛﹛4. The equipment design for simple-use.
﹛﹛5. Extremely accurate with high cost/performance ratio.
﹛﹛6. Automatic turn off to save battery power.

Specifications

Model: CL-910

Model: CL-910A

Measuring Range

Resistance: 0次-1999次

Resistance: 0次-199次

Voltage: 0-199.9V

Accuracy

Resistance: ㊣2%rdg㊣0.1 (20次)

㊣2%rdg㊣3dgt (200次/2000次)

Voltage: ㊣1%rdg㊣4dgt

Overload Protection

Resistance: 280V AC/DC for 10sec

Voltage: 300V AC/DC for 1Min

Measuring Method

Voltage /Resistance

High Voltage resistance

3700V AC Per Minute

Safety Standard

IEC61010-1CAT.III 300V
Pollution Level II IEC61557

Power

9V DC (1.5V R6P(SUM-3)*6 pieces battery

Standard Accessory

7095Line*1 pc, 7094line*1 pc, 8032 Iron Stick 1 Pair, R6P(AA)*6pcs, User's Manual*1pcs

Packing Info

CL-910

CL-910A

Product Net Weight

644g

330g

Product Size

163*135.7*79.1mm

173*101*55mm

Packing

Gift box

Gift box

Standard Quantity Per Carton

6

12

Standard Carton Size

60.0*36.0*37.5cm

52.5*45.5*34.0cm

Standard Carton Gross Weight

10.1kg

13.1kg