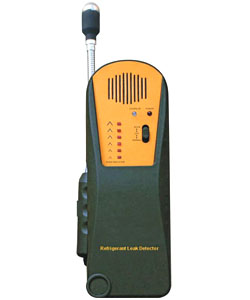 Refrigerant Leak Detectors CL-5750A
CL-5750A Refrigerant Leak Detectors is an industry grade halogenated refrigerants gas detectors.
1. It is suitable for detect all type of halogenated gas. Moreover, it can detect:
CFCs: R11, R12, R500, R503, etc
HCFCs: R22, R124, R502, etc
HFCs: R134a, R404a, R125, etc
2. Detects the medical equipments ethane oxide, Ethanol gas, etc
3. Detects the fire protection system Halon gas.
4. Detects the air-conditioning, refrigeration system, etc
Specification:
*Detect item: All type of halogenated gas
*Intensity of the leakage level
*Response time: Instantaneous
*Warm up time: <90sce.(in 25≧,60%RH)
*Low battery indication: 5\0.3V/5.5\0.3V Characteristics:
*The flexible probe can easily access any areas
*Use the high effective mechanical pump to decrease the reactive time
*Ultimate sensitivity: 5AEJ1607 level standard, 0.5oz per year
*Continuous operation time: 4hours
Packing information:
*Power: 6V Ni-Mh rechargeable battery
*Net weight: 622g
*Size: 234x86x46mm
*Packing: Gift box
*Q'ty per carton: 12PCS
*Standard carton size: 52.5x45.5x34.0cm
*G.W. of the carton: 17.5kg
*Accessories: 220V Adapter for charging the battery