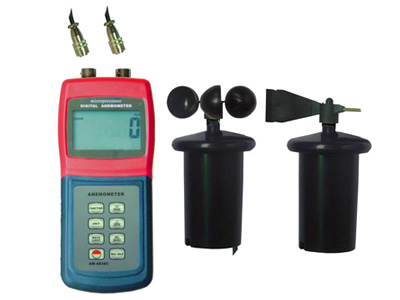 Digital Multifunction Anemometers AM-4836C
(3-cup type, with wind direction)

1. Application:
Installation, debug and repair for refrigeration industry, ventilation duct, environment monitor, navigation measurement, weather forecast, collection of the weather datum for outdoor busywork and fire department.
2. Specifications:
Display: 0.5¡±(13mm) 4-Digit LCD
Measuring parameter: wind speed, wind flow, wind/beaufort scale, wave height, wind direction, temperature
Measuring range:
Wind speed:
0.4~45.0m/s (meters per second)
1.4~162.0km/h (kilometers per hour)
80~8860ft/min (feet per minute)
0.8~88.0knots (nautical miles per hour)
Flow:
0-9999 CMM (cubic meters per min)
0-9999 CFM (cubic feet per min)
Wind Scale: 0~12 level
Wave: 0~14m
Wind direction indicator: 16 ways (the resolution is 22.5¡ã)
Temperature: 0~60¡æ, 32~140¨H
Accuracy: ¡À2%n+2d
Resolution: 0.1/1(wind volume is over 1000)
Sampling rate: reading per second approx.
sensors:
Air velocity/flow sensor:
Conventional angled vane arms with low-friction ball bearing.
Temperature sensor: Precision thermistor

Data hold: Max. Value
Data output: RS232C serial interface (Cable & software are optional)
Memory: 24 groups data
Low battery indicator ¡¡
Auto power off: 0 or 8 minutes set by users
Power: 4¡Á1.5V AA (UM-4) battery
Dimension: 156¡Á67¡Á28mm
Weight (including probe & battery): 260g
3. Product Accessories
Standard Accessories: Main unit 1, Carrying case 1, Instruction manual 1
Optional Accessories: (1) Cable and software for RS-232C interface (2) AC adapter
(Note: Standard Cable 1.5m, other length can be specified)